Biography
Phil Griffin
Artist | Photographer | Director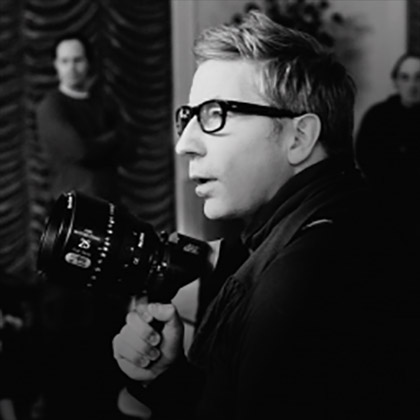 Phil Griffin graduated from 'Ballet Rambert' in London as a dancer and choreographer.
As head of creative at MCA in London Phil commissioned art films music videos & photo shoots & TV performances for both UK & International artists such as C&C Music Factory, Ocean Colour Scene, Black Grape, Mariah Carey, Destiny's Child & Bobby Brown.
Extending his film work into photography, Phil has created visual campaigns & portraits that include Amy Winehouse Adele, Sigourney Weaver, Sir Paul McCartney, Prince, John Bon Jovi, Rhianna, Annie Lennox, Naomi Cambell, Jay Z & Helen Mirren.
Phil toured the world with Bon Jovi directing the paired documentary feature & Madison Square Garden Concert DVD When We Were Beautiful. The film premiered at the Tribeca Film Festival. The companion Harper Collins book Bon Jovi: Conversations with Phil Griffin was the first music book to hit the NY Times top 20 best seller list.
Further documentary features followed. Britney: For the Record aired in over 35 countries around the world to an audience of 100 million, while Phil and Prince reunited to create a full-length edited version of the record-breaking concert series 21 Nights in London.
10 million YouTube viewers tuned in to Phil's 1 hour Amex Live Concert special – Jay Z at South By South West followed by a 20 min Rihanna film: "Half Of Me" exploring the delicate relationship the global superstar has with her Fans.
Full-length feature film 'Surrender' explored the work & process of controversial Flemish artist Jan Fabre, a first solo Art show with Keteleer Gallery in Antwerp and Phil's continued commitment to Swedish Refugee foundation I Am You.
Art film Not Once, starring total artist & icon Mikhail Baryshnikov and directed with Fabre opened at Venice Bienalle in 2020 under the curation of British dance legend Wayne McGregor
Whether Its working to promote Self Belief in young people though Prince Charles & The Princes Trust, collaborating with Sting, Mary J Blige & Sir Paul McCartney on the Hurricane Sandy Relief campaign or with Macklemore & Lewis for the USA Network for the 2014 commercial of Phil's self penned "I Won't Stand For It." campaign, storytelling is at the heart of every project.
Fine art photography exhibitions continue with participation in 'The Artist / Knight', a group show at Gaasbeek Castle with Damian Hirst Tracey Emin Yoko Ono & Barbara Kruger and  solo shows in the USA in Los Angeles , Barcelona & London
Unseen Icons explores Griffin's 25 years as an image maker – includes works with Diana Ross Jon Bon Jovi Amy Winehouse  Sir Paul McCartney and HRH The Prince Of Wales & his son Prince William. Some of the Unseen Icons will raise funds for The Princes Trust & Amy Winehouse Foundation.
Amy In The Light, a new and experimental look at the personal work Phil Griffin shared with Amy Winehouse launched to global acclaim in 2021 and celebrated the legacy of Amy's life & work, 3 works from this exhibition were chosen for The Design Museum retrospective Amy beyond The Stage
INSTAGRAM